Genuine OEM Audi Rear Seat Entertainment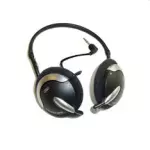 Exclusive Headphones
Replaces: 4E0-088-683, 4E0-088-683-A
Description:
Audi Exclusive design wired headsets for use with your Audi Rear Seat Entertainment System.
Bluetooth Headphones - Black
Description:
The Audi headphones are easily linked with the Audi Entertainment mobile system to offer a magnificent wireless sound experience. The...
Fits:
Audi:

A4 Quattro,
A5 Quattro,
A6 Quattro,
A7 Quattro,
A8 Quattro,
allroad,
Q3,
Q5,
Q7,
RS5,
RS7,
S4,
S5,
S6,
S7,
S8,
TT Quattro,
TT RS Quattro,
TTS Quattro
No results found for headphones, rear seat entertainment, Audi Entertainment Mobile, y cable. Here are some helpful search tips:

Search by a part name. Example: water pump.
Be less specific. Example: brake instead of ceramic brake.
Remove information such as make, year or model.
Can't find the part you are looking for? Contact us and we'll find it for you!